We all know that we should wear motorcycle jackets when we hit the road on our bikes.  It's important to stay protected, but maybe the looks of  most motorcycle jackets don't fit your style.  Either you don't like the cut or you just don't want to be a walking billboard for the brand of the jacket.  Maybe you just don't like the "Biker" look and want something that can be worn casually as well.  Fortunately, many of the motorcycle gear designers have taken notice and are now producing jackets that depart from the traditional styling cues.  Check out these 5 different low key motorcycle jackets that don't scream for attention.
River Road Laughlin Jacket
A lot of guys where their work wear on their bikes.  It's what they have and it's what they are most comfortable in.  Carhartt style jackets have become a look and style of their own and we see a lot of hard working guys hit the road on their bikes with them on.  The only problem is that they are not going to protect you as well as a motorcycle jacket will.  The River Road Laughlin takes many styling cues from your standard Carhartt style work jacket and then incorporates the features of a motorcycle jacket as well.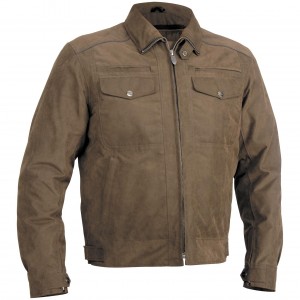 With the Laughlin, you don't have to worry about any over the top branding.  There are no logos to be found on this jacket.  All that you get is the classic waxed cotton appearance that will never go out of style.  It is built on a polyester/nylon blend chassis that is soft yet durable and treated to be water resistant.  There are features of this jacket that make it superior to your work jacket for riding.  This starts with the inclusion of the removable CE-approved armor in the shoulders and elbows along with the EVA foam back protector.  It also has incognito reflective piping to keep you noticed by other motorists.  The intake and exhaust vents are another step up from your work jacket and will keep you cool when the weather gets warmer.  Most motorcycle jackets do not come with a foldable collar because they tend to flap in the wind.  The Laughlin's collar can be snapped down to avoid that issue.  If you're a farm guy with a bike, the River Road Laughlin is the perfect jacket for you.
Click for Laughlin Video Review
Klim Black Traverse Jacket
Now for the Adventure/Enduro riders who refuse to look like Robo Cop.  Introducing the Klim Traverse Jacket.  Klim has always been known for their more conservative styling and the Traverse jacket in black is no different.  This jacket may not look the fanciest, but it is definitely a top-notch motorcycle jacket.  The longer cut and lack of over-the-top logos allow you to wear this jacket casually as well.  It could easily be worn as a hiking jacket when you get to a point where your bike just won't go.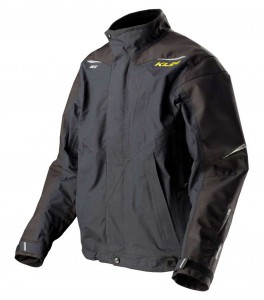 Made with highly durable Gore-Tex® fabrics, you will be protected to the max from the elements in the Klim Traverse.  That means that the jacket is "Guaranteed to keep you dry" and it has outstanding breathability.  It can be worn in cold weather with some good layers underneath, or you can wear it when it's hot and open up the vents and let the moisture-wicking polyester mesh liner do its job.  There are pockets for you to add D3O armor for added protection.  The articulated sleeves allow you to be comfortable in any riding position and the 3M Scotchlite™ reflective panels will keep you visible.  Overall, you can expect excellence from the Klim Traverse Jacket.
Click for Traverse Video Review
Speed and Strength Stars and Stripes Jacket
The black denim look is just as classic as the Carhartt look and the Stars and Stripes jacket from Speed and Strength nails it on the head.  This jacket does have that classic denim look, but it's not going to be as stiff and heavy as denim due to the water resistant AR-700 textile fabric.  The American cut of the Stars and Stripes jacket means that it is going to be comfortable on and off of the bike.  The American cut gives the jacket a more generous torso and won't be as restrictive like many other motorcycle jackets.  The removable fleece hood adds a nice casual touch for when you reach your destination.  If you don't like it flapping in the wind, you can detach it and you are good to go.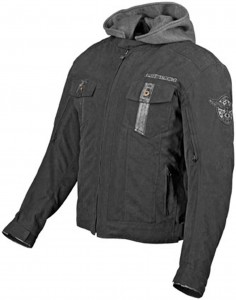 Though this jacket has classic styling, it performs amazing with the new technology.  Your spine, shoulders and elbows will be protected with the Vault™ CE Approved armor and they are removable if you want to just wear the jacket casually.  The jacket will also work well in a variety of weather conditions.  It features a removable insulated vest liner and Speed Zip™ controlled ventilation.  The shoulders have expansion gussets to increase your mobility.  All in all, the Stars and Stripes jacket is a fresh take on the classic denim look and will keep you protected on your bike.
Alpinestars Tech Fleece Cloak
You may not be inclined to throw on a motorcycle jacket every time you go for a short ride or commute to somewhere.  You throw on your hoody and hit the road.  That's all fine and good until you hit the pavement.  While it's not a perfect substitute for a real motorcycle jacket, the Alpinestars Tech Fleece Cloak is a decent compromise.  This is a versatile fleece that is engineered for riding.  It has a soft outer shell that will give you ultimate mobility and the hood can be removed if you want.  There is a bit of branding with the Monster Energy logos, but it is not completely over the top.  The high profile collar will keep the wind off of your neck and the fleece liner is soft and comfortable.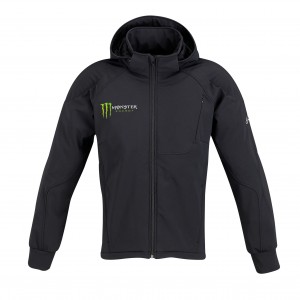 This fleece has a few elements that make it worthy of being worn on your bike.  The elbows and shoulders have PE foam inserts and if you want even more protection, you can upgrade to the Alpinestars Bio-Armor.  The Tech Cloak is made with a three layer construction, which features a windbreaker membrane that is laminated between a soft outer shell and the fleece lining that will give you some thermal insulation.  If you don't want to throw on a motorcycle jacket, the Alpinestars Tech Fleece Cloak is a solid compromise for light riding.
Click for Tech Fleece Cloak Video Review
Speed and Strength Urge Overkill Jacket
If you are comfortable in a snowboard jacket, you will likely feel right at home in the Urge Overkill jacket from Speed and Strength.  It features a longer and roomier cut that won't have you feeling constricted like many other motorcycle jackets.  There are not any huge give-aways that this is a motorcycle jacket until you start to look closely.  The removable hood gives it a nice touch that helps present the snowboard jacket style.  The black version of this jacket is just that, black.  No loud colors or logos to be found on this one.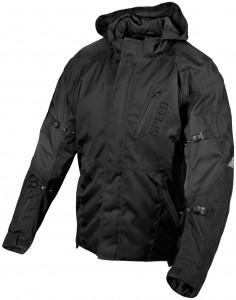 Although this jacket has some low-key styling, it is still a very technical jacket.  To start, it features a CE approved spine protector and reinforced shoulders and elbows.  It is waterproof due to the seam sealed AR-600 textile frame.  It also has a removable Cool-Core™ moisture wicking liner to pull away any moisture that does make it through along with any perspiration.  The front pockets and rear storage pocket are all waterproof as well to keep all of your valuables dry.  In the warmer weather, the venting is enough to keep you cool.  The Urge Overkill is one of the more technical jackets on this list.
Click for Urge Overkill Video Review
Shop all Jackets
Ryan is one of the lucky ones who gets to combine their passion with work.He has enjoyed powersports his whole life and now gets to write about it.Ryan has been around the industry since starting to work at Dennis Kirk in High School and continues to enjoy learning and sharing aboutpowersports with others in his role in DK content.
Latest posts by Ryan (see all)